Exile LE Ignited - Black Pommel (Standard)
Exile LE Ignited - Silver Pommel
CHOOSE YOUR CONFIGURATION METHOD BELOW
Availability: LEAD TIME - Allow 1 to 3 Business Days for Fabrication
Questions? Call 832-596-9003 or Click Here for How to Buy
SPECIFICATIONS
All Aircraft Grade Aluminum Construction
Length: 8"
Width: 1.5"
Removable Pommel (MHS Compatible)
Polycarbonate Blade
CREE XP-E2 or LED Engin High Powered LED
Featured Videos
Ultrasabers Exile
Description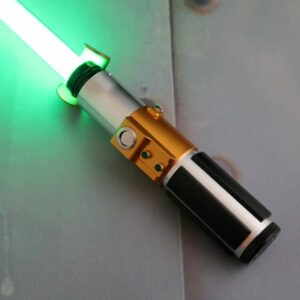 Ultrasabers is proud to present: The Exile LE
We've been getting requests for this one for a long time, and we're excited to finally bring it to you guys in a combat class that meets our high standards for lightsabers. Say hello to The Exile LE!
With a shrouded emitter protecting the base of the blade, and jeweled knobs that give it an elegant look, it is perfect for wizened masters and padawans alike! The vented pommel with pinholes matches its stature and allows for beautiful sound.  The grips paired with the sleek activation box make this hilt incredibly comfortable to wield.
The Exile LE is available in five different finishes:
The Exile with Black Activation Box and Silver Emitter Shroud
Azure Exile with Blue Activation Box and Blue Emitter Shroud
Crimson Exile with Red Activation Box and Red Emitter Shroud
Exile LE with Gold Activation Box and Gold Emitter Shroud
Exile SE with Black Activation Box and Black Emitter Shroud
The Exile LE measures in at 8″ long and 1.5″ wide.
The pommel is MHS (Modular Hilt System) Compatible, meaning it is removable and interchangeable with other MHS compatible parts.