The Overlord Nickel Plated & Aluminum Options Nickel Plated (Left), Polished Aluminum (Right)
The Overlord From UltraSabers.com
CHOOSE YOUR CONFIGURATION METHOD BELOW
Availability: LEAD TIME - Allow 1 to 3 Business Days for Fabrication
Questions? Call 832-596-9003 or Click Here for How to Buy
SPECIFICATIONS
All Aircraft Grade Aluminum Construction
Length: 12.25"
Width: 1.5"
Removable Pommel (MHS Compatible)
Removable Emitter (MHS Compatible)
Polycarbonate Blade
CREE XP-E2 or LED Engin High Powered LED
Featured Videos
Ultra Sabers Overlord
Review of the Ultrasabers Overlord in BR/FO
Ultrasabers Overlord Review with initiate
Ultrasabers Overlord Gaurdian Blue with FOC green
Description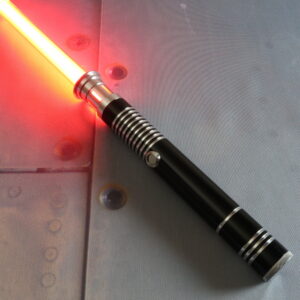 This is an Ultrasabers classic, back and better than ever with its classic tuxedo scheme, the flanged emitter, and low profile knurled pommel. Like every Ultra Saber it's durable and combat ready. This saber is built with high quality aircraft aluminum. It will stand up to rigorous use time and again. This saber also has the beloved windowed emitter to give the saber a novel accent when the blade is illuminated. There are grooves engraved into the lightsaber hilt body as well as above the switch and above the pommel. The Overlord comes standard with a belt clip wheel.
The Ultrasabers Overlord also comes with the option to upgrade the emitter and pommel with Nickel Plating. You thought this saber looked great before? Check out the pictures below to see how good this Nickel Plated emitter and pommel looks next to our standard versions. Both look awesome on the Overlord, but wow that Nickel Plating really shines!
The Overlord comes completely assembled and ready to go. The pommel is MHS (Modular Hilt System) Compatible, meaning it is removable and interchangeable with other MHS compatible parts.