The Reaper Emitter With & Without The Claw
The Reaper Pommel With & Without The Claw
The Reaper Ignited - Blazing Red
The Reaper from UltraSabers.com
CHOOSE YOUR CONFIGURATION METHOD BELOW
Availability: LEAD TIME - Allow 1 to 3 Business Days for Fabrication
Questions? Call 832-596-9003 or Click Here for How to Buy
SPECIFICATIONS
All Aircraft Grade Aluminum Construction
Length Without Claws: 15"
Length With Claws: 19.5"
Width: 1.45"
Removable Pommel (MHS Compatible)
Removable Emitter (MHS Compatible)
Polycarbonate Blade
CREE XP-E2 or LED Engin High Powered LED
Featured Videos
Ultrasabers Reaper & Crimson Reaper
My first ultrasaber the reaper
Ultrasaber Reaper in Adegan Silver plus prophecy v3 peek
Ultra sabers Reaper
Description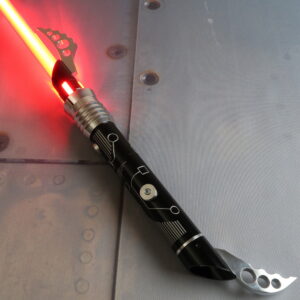 This is our first saber to feature both a slanted emitter and a slanted pommel. And in case you hadn't noticed them, perhaps the most stand out features on this saber are the menacing claws fixed on the emitter and on the pommel of the Reaper. Both add a flare unique to the Reaper that will make this a stand out saber in your arsenal.
And of course the 5 elongated windows in the emitter make the Reaper both a beauty and a BEAST! The silver shroud below the emitter, on the neck of the saber, is a great addition to this Ultrasaber that gives it a look and feel all it's own. It also doubles as a great place for your offhand for our two handed saber wielders.
The Reaper has also been anodized black and features a unique pattern machined into the body, giving it yet another feature that will draw all the attention that this saber deserves.
This saber comes standard with a covertec wheel installed.
This saber is built with the highest quality T6 Aircraft grade aluminum. It will stand up to rigorous use time and again. The materials used to forge this lightsaber are second to none. Aircraft grade aluminum and CNC machined precision goes into the creation of every saber in the Ultrasabers arsenal.
The Reaper comes completely assembled and ready to go. This is a four piece saber (emitter, neck, body, and pommel) and all four pieces are TCSS MHS (Modular Hilt System) Compatible, meaning they are removable and interchangeable with other MHS parts.
In addition the neck shroud and both claws are removable. This saber is 15″ long from emitter to pommel, 19.5″ with both claws attached, and 1.450″ wide at the body.