The Raven Pommels The SS Pommel (Left), The Standard Pommel (Right)
The Raven with Standard Claws - Adds 5.75"
The Raven with SS Edition Claws - Adds 7.75"
The Raven From UltraSabers.com
CHOOSE YOUR CONFIGURATION METHOD BELOW
Availability: LEAD TIME - Allow 1 to 3 Business Days for Fabrication
Questions? Call 832-596-9003 or Click Here for How to Buy
SPECIFICATIONS
All Aircraft Grade Aluminum Construction
Length Without Claws: 13.25"
Length With Normal Claws: 19"
Length With SS Claws: 21"
Width: 1.5"
Removable Pommel (MHS Compatible)
Polycarbonate Blade
CREE XP-E2 or LED Engin High Powered LED
Featured Videos
Raven Video
Ultrasabers Raven Review
Raven Review (Ultra Sabers)
Ultrasabers Raven Review
UltraSabers Raven Review
Description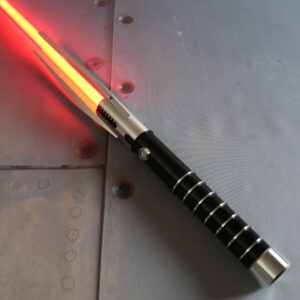 This is a Sith warrior's ultimate lightsaber. It's big, it's bold, it's beautiful and it's ready for combat.
The Raven comes with 3 unique Raven's Claws, available in two different versions. Our normal version adds 5.75 inches to the length of the saber, while our Super Sith (SS Edition) Edition adds 7.75 inches to the height of the saber- and it looks awesome. These are some well machined, high quality claws that will get your saber noticed! Fear not! The Raven's Claws are sturdy, well mounted and made for combat. However, if the situation calls for it, they are easily removable.
This saber also comes with 2 choices of pommels. One plain silver pommel that goes very well with the saber and helps accent the entire body. And a Super Sith (SS Edition) pommel featuring black grooves and a black bottom to help add to the overall look of the entire hilt.
The saber comes completely assembled and ready to go. The blade holder is removable and so is the pommel. The pommel is TCSS MHS (Modular Hilt System) Compatible, meaning it is removable and interchangeable with other MHS parts.